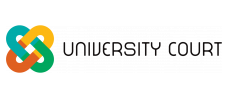 Your Review
Submit a Review

Resident Reviews
|

Recommended: No
Thank you for your review, Minh-Thu. We are happy to hear about your great experience with our maintenance staff. We do our best to employ helpful staff to meet resident needs as soon as possible. We appreciate any and all feedback we receive. Best regards, The University Court Management Team
|Recommended: YesOverall Experience — Great location, as long as you don't mind a bit of noise.
|Recommended: Yes
It's conveniently near campus and Trader Joe's. — It's nicer than the dorms unless you have loud party neighbors and neighbors that smoke.
Thank you for your review, Amy. We're glad that you enjoy our convenient location, who doesn't love Trader Joe's? Please call us at 530-753-5429 so we can further address your concerns with your neighbors. -Resident Relations Team Member
|Recommended: Yes
Great overall experience — Close to the shopping mall and campus, good enough for me
Thank you for your five-star review, Zhaolin! We are elated to hear that you enjoy our close proximity to the mall and campus. Please let us know if there is anything else we may do for you. -Resident Relations Team Member
|Recommended: Yes
Too expensive — The construction is ok, really close to campus, near Trader Joe's, have several bus stations nearby, which is very convenient. The community is very safe. However, the rent fee is expensive.
Thank you for reaching out. We're happy to hear that you have been able to take advantage of our convenient location. Residents absolutely love being so close to Trader Joe's! Here, at University Court, we strive to improve. We encourage you to reach out to us, our email address is universitycourt@udgi.net. -Resident Relations Team Member
|Recommended: Yes
FIXING THE PROBLEM — WHEN THERE IS NO PROBLEM. PEOPLE COME TO MY PLACE TO FIX. WHEN I REALLY HAVE PROBLEMS, NO ONE COMES.
We appreciate your feedback, Han. We're sorry to hear about your experience. We would like to discuss your concerns further, please call us at (530) 753-5429. -Resident Relations Team Member
|Recommended: Yes
Apartments are well kept and they have a nice design. — It is a safe property because the apartments are gated. There is a large study lounge that is available until late nights.
Thank you very much for the positive review, Maribel! We are so glad that you've chosen to make University Court your home. We are thrilled to hear that you are taking advantage of our large study lounge. Please let us know what we can do to turn your 3-star review to 5-stars! We want to make sure we exceed your expectations! Thanks again, Maribel! Best, University Court Business Team Leader (530) 753-5429
|Recommended: Yes
Average — Yes
Thanks for your review, Haotian. We would love to hear more about your experience, so that we can use your valuable feedback to deliver an even better experience next time. Please reach out to us with any further comments or suggestions you wish to share. Again, thank you for taking the time to review our community! Best, University Court Business Team Leader (530) 753-5429
|Recommended: Yes
Nice and Convenient. Definitely recommend — Fantastic location, good staff members. Would recommend
Thanks for the kind words, Hekang! Our location is one of the many things we are very proud about University Court, and we're so glad it's so convenient for you! We are so lucky to have you with us in the heart of Davis. Thank you again, Hekang! Best, University Court Business Team Leader (530) 753-5429
|Recommended: Yes
Amazing place — It is an amazing place to live. The community is so pleasant and relaxing it feels like a home away from home. It is quiet, you have everything you need available such as a gym and a pool, and also the staff is all very helpful and nice.
Thank you for your kind review, Monique. We appreciate you choosing University Court as your home and are excited to know that you enjoy our beautiful amenities. We strive to exceed your expectations every day! Kind regards, Lorna Hyatt Business Team Leader, University Court Apartments (530)753-5429 | mgr.universitycourt@udgi.net www.universitycourt.net 515 Sycamore Lane Davis, CA 95616
|Recommended: Yes
Pretty good apartment for student — The room is big and maintenance people can always fix problems in time. Utilities are good also.
Thank you for your review Liyang! We appreciate the feedback, and hope we can continue to exceed your expectations!
|Recommended: YesBeautiful. Awesome amenities and facilities. — Seems like a great establishment. I like that it is gated, adds a feeling of security. 1x1 is well sized, enough room without feeling cramped.
|Recommended: YesPeaceful safe and friendly community. — University Court is a great place to stay. I enjoy the many amenities they have especially the quiet study rooms for late night studying. I appreciate that they are very considerate of their residents and installed a bike repair station. Overall Apartments are fairly maintained and if i have issues the staff are very helpful
|Recommended: YesLove the property Great for studying and hanging out with friends — This apartment complex was great The 24 hr. study lounge was great for studying and the lounge with the pool table and patio area was fun for roasting marshmallows and playing pool with friends. I would definitely recommend this apartment complex to others.
|Recommended: YesWonderfull — Its the best place to live in davis